Farming News - LAMMA '18 – new tractors and loaders set to steal the show
LAMMA '18 – new tractors and loaders set to steal the show
Visitors to LAMMA '18 will be spoiled for choice when it comes to tractors and loaders with hundreds of machines on show, many making their UK debut.
Whether it's a gargantuan tracked machine or a general-purpose workhorse, there will be something to suit every taste when the show returns on 17 and 18 January 2018 at the East of England Showground, Peterborough
This preview looks at some of the launches that are likely to draw some of the biggest crowds.
Second-generation McCormick X7s
Increased power and performance and cab refinements are among features of the second-generation McCormick X7 Series tractors being launched at LAMMA '18.
The range includes a more powerful model with 205hp for draft work and up to 225hp for PTO and transport operations. Power Plus engine boost now features on all models, while the new P6-Drive transmission serves up two extra powershift steps and an additional range for added speed control versatility. Hydraulics performance is also uprated.
Inside the spacious Premiere cab, the headland management system has more features and is now set up in the Data Screen Manager control centre.
Case IH launching flagship Quadtrac CVX
Three new Quadtrac CVX tractors are equipped with CVXDrive transmissions for the first time on an articulated tracked tractor.
Producing up to 613hp, the Quadtrac 540 CVX is the world's most powerful tractor with a CVT transmission, and is joined by the Quadtrac 500 CVX and Quadtrac 470 CVX models, which produce maximum power outputs of 558hp and 525hp respectively.
Case IH Quadtrac CVX tractors are powered by electronically-controlled 12.9-litre Cursor 13 six-cylinder engines from sister company FPT Industrial.
Providing stepless travel from 0-40km/h, and 0-18km/h in reverse, CVX allows the storing of three adjustable target speeds from 0km/h to 40km/h, adjustable via the thumb-wheel and buttons on the Multicontroller.
Key features include Automatic Productivity Management (APM), which ensures the most efficient operation of the machine, whether the target is minimum fuel use or maximum output.
Case IH is also launching several other new and updated tractors at the show. Puma 140, 150 and 165 tractors are now available with a new 'X' base specification featuring the Case IH six-step semi-powershift transmission.
Puma 185 Multicontroller to Puma 240 CVX models benefit from front axle suspension improvements, to enhance ride quality and machine stability. They can also now be equipped with Adaptive Steering Control.
The company will also present its new Maxxum ActiveDrive tractor, which has just been awarded Machine of the Year, and three new Farmall multi-task tractors.
Fendt's flagship track-layer
The star attraction on Fendt's stand is likely to be the MT 943 tracked tractor, which will be making its first appearance in the UK.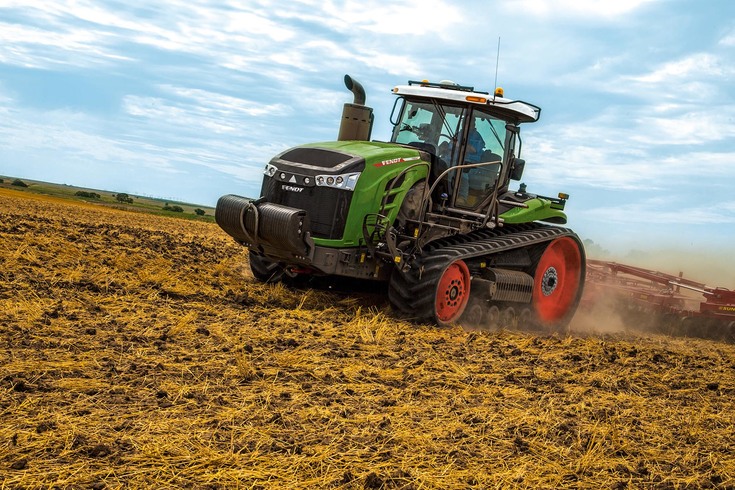 At 431hp, it's the flagship of the three-model range. Particular attention has been devoted to the unique suspension systems. By combining the air-sprung operator's seat, the two-point cab suspension, ConstantGrip track/ground contact and SmartRide mainbeam connection, the company claims new standards of ride, performance and control.
Compact range from Landini
The new Landini Rex 4 Series tractors will make their UK farming debut. The compact tractor range spans 69-111hp and the 95hp Rex 4-100 F will be on display.
The F version can be configured to 1.3m wide so can be a heavy-duty yard and cubicle house scraping tractor, while the ultra-narrow version (barely 1m wide) is designed primarily for vineyard work.
There are seven power outputs altogether, coming from a new 2.9-litre compact four-cylinder engine.
John Deere improves 5M and 5E series tractors
John Deere has announced several improvements to its lower horsepower 5M and 5E Series tractors up to 115hp.
The company has also extended the 5E range with the introduction of the new 49hp 5050E, John Deere's smallest agricultural tractor. Models from both ranges will be feature at the event.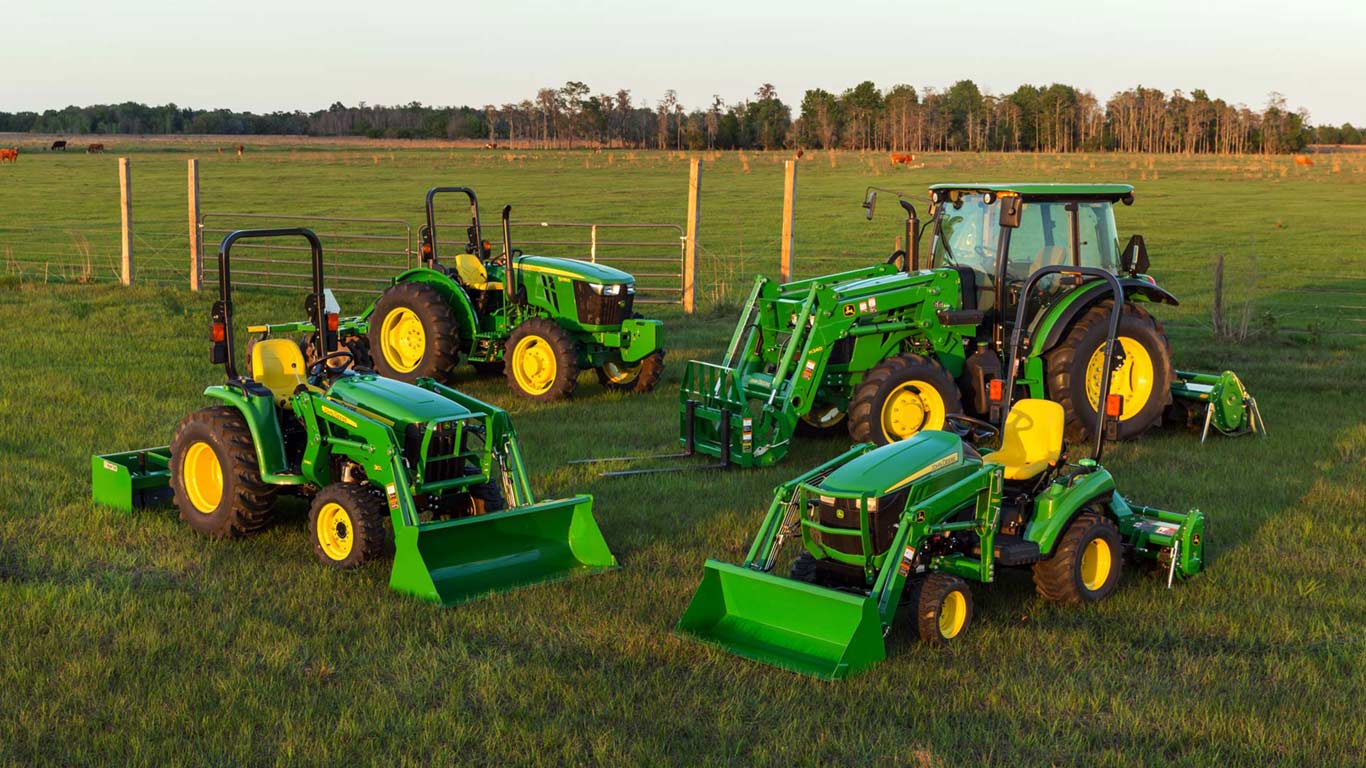 The new 5090M replaces the 5085M in this four-model M range, which also includes the 5075M, 5100M and 5115M. All are equipped with Stage IIIB compliant John Deere PowerTech PWX engines – a 2.9-litre three-cylinder unit on the 5075M, and a 4.5-litre four-cylinder unit on the three bigger models.
Cabs have been updated and the rear hitch capacity has been increased to 4.32t and payload to 7.5t.
John Deere's newly designed 5E Series three-cylinder tractors for 2018 also feature enhanced operator comfort and a fuel efficient PowerTech E engine (PowerTech M on the new 5050E).
Maximum power ratings of the 5050E, 5058E, 5067E and 5075E models are 49, 60.3, 68.5 and 74.7hp respectively.
There is a choice of two transmission options and cab comfort has been significantly increased.
New mini-workhorse from TYM
The new T393 brings more versatility to TYM's utility tractor range. It features a 39hp Yanmar engine, two transmission options: 12x12 speed manual with dash mounted shuttle lever or a three range HST transmission, and the highest lift capabilities in its class at 1200kg.
The tractor is available with either a rear mounted ROPS or a factory-fitted cabin with air conditioning and front and rear work lamps.
Hydraulic flow rate has a maximum output of 42 litres per minute so can drive a wide range of hydraulically driven attachments. All HST models come equipped with a new Auto Throttle function, linking the HST pedals to the engine throttle to synchronise the tractor's speed and engine rpm.
Claas showing new loaders and telescopic handlers
Claas's Torion wheel loader range, said to be the first loading shovel to be specifically designed for agricultural use, consists of seven models, equipped with Claas's Power System drive.
The smallest 639 and 535 models are powered by 68hp Yanmar engines, while the range 1511, 1410 and 1177 models are equipped with fuel-efficient DPS engines that develop up to 167 hp. The largest Torion 1914 and 1812 models are powered by Liebherr engines developing 228 and 195hp respectively.
All the engines are mounted low and well towards the rear, creating a counterweight to the lifting zone.
Claas's new Scorpion telescopic handler range, developed in cooperation with Liebherr, includes Dynamic Power for engine management and the new Smart Loading driver-assistance system for fine control of the working hydraulics and overload protection.
It also features a fully automatic parking brake, controlled crab steering as a fourth steering option and an all-new cab configuration.
All models come with Deutz diesel engines, which develop up to 156 hp and meet Stage IV (Tier 4) emissions standards.
JCB Agri-Pro loader makes UK debut
The outstanding performance of JCB's six-tonne capacity Loadall 560-80 telescopic handler can now be exploited with the added finesse of hydrostatic drive while still packing a punch on bulk re-handling and loading.
The AGRI Pro version will make its UK debut at the LAMMA show. It features JCB's award-winning DualTech Variable Transmission, using hydrostatic and powershift elements that work automatically.
This flagship of the Loadall range lifts 6,000kg and can handle a 5cu m grain bucket from the extensive JCB AGRI attachments range. It is powered by a 108kW (145hp) JCB EcoMAX engine. and a 140-litre/min hydraulics package ensures there is no shortage of muscle.
Blaney's new pivot-steer loader
Blaney Motor Company's new L1 10-27 pivot steer loader makes its UK debut.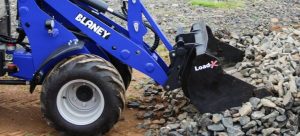 These multipurpose wheeled loaders have been designed to be compact for manoeuvrability and mobility, able to access hard-to-reach areas.
The compact wheeled loader is equipped with a 40hp engine and hydrostatic transmission with four-wheel drive limited slip differential. With a high-capacity hydraulic system, they have a 1-tonne lifting capacity and a 2.7m reach (3.3 3.3m for the telescopic model.)
LAMMA debut for Manitou forklift
Manitou's MC18 ultra-compact rough-terrain forklift offers optimum visibility thanks to a new panoramic glazed roof, which also reduces noise in the cabin to 79 dB, compared with a market average of 86 dB.
The MC18 delivers a ground clearance of 30 cm, the highest on the compact truck market, switchable two- or four-wheel drive, and easy engine access. Its 26.5 kW engine optimizes its fuel consumption, which together with optimised preventive maintenance, results in total cost of ownership 15% and 20% lower than the competition.
Hauer loaders unveiled for UK market
Hauer's XB Bionic front loaders are being shown for the first time in the UK. These robust loaders have the mechanical parallel guidance and the tilting cylinders integrated into the loader arm.
All valves and the optional front loader shock absorber system are located inside the double-walled, torsion-resistant cross-beam. The new front loader series is available for tractors from 50 to 280 hp.
For further information on LAMMA '18 go to www.lammashow.com