Farming News - Agriculture Bill to boost environment & food production
Agriculture Bill to boost environment & food production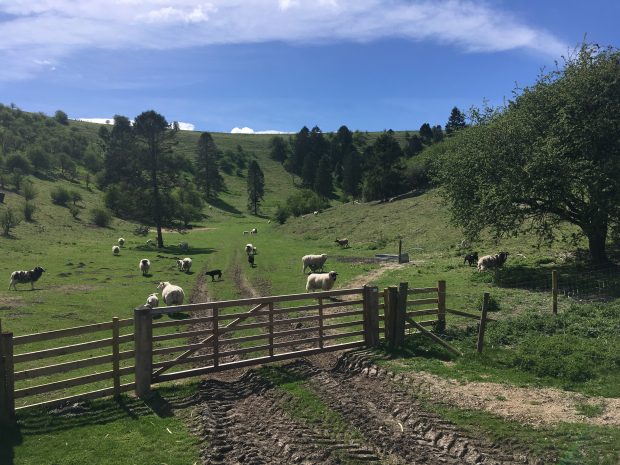 A future where farmers are properly supported to farm more innovatively and protect the environment is a step closer today following the introduction of the Agriculture Bill.
The landmark legislation introduced today will provide a boost to the industry after years of inefficient and overly bureaucratic policy dictated to farmers by the EU.
It sets out how farmers and land managers in England will in the future be rewarded with public money for "public goods" – such as better air and water quality, higher animal welfare standards, improved access to the countryside or measures to reduce flooding. This will contribute to the government's commitment to reaching net zero emissions by 2050, while at the same time, helping to boost farmers' productivity.
This will replace the current subsidy system of Direct Payments which pays farmers for the total amount of land farmed, skewing payments towards the largest landowners rather than those farmers delivering specific public benefits.
Instead, the new measures will provide a better future for agriculture in this country, maximising the potential of the land for food production and for delivering public goods.
The reforms set out in the Bill are supported by the manifesto commitment to maintain overall annual funding for farm support at current levels for the duration of this Parliament.
Environment Secretary Theresa Villiers said:
"Our landmark Agriculture Bill will transform British farming, enabling a balance between food production and the environment which will safeguard our countryside and farming communities for the future.
"This is one of the most important environmental reforms for many years, rewarding farmers for the work they do to safeguard our environment and helping us meet crucial goals on climate change and protecting nature and biodiversity.
"We will move away from the EU's bureaucratic Common Agricultural Policy and towards a fairer system which rewards our hard-working farmers for delivering public goods, celebrating their world-leading environmental work and innovative, modern approach to food production.
"We will continue to champion British produce and support farmers to adapt to our new pioneering approach to agriculture through a seven-year transition period in England, ensuring we unleash the potential of our farmers for the future."
The new Bill champions British food by improving transparency and fairness in the supply chain from farm to fork and through investing in new technology and research to ensure our world-renowned food producers remain competitive and innovative.
Investing in the foundations of food production, such as clean air, soils and water, will safeguard our food security and the Bill will legally require any UK government to report regularly on food security to Parliament.
By collecting data from across the supply chain, the government will also help food producers strengthen their negotiating position at the farm gate and seek a fairer return.
In order to spend more on boosting productivity and environmental benefits, Direct Payments will be phased out over an agricultural transition period, which is due to start in 2021 and run for seven years.
Later in the agricultural transition, the government plans to 'delink' Direct Payments from the requirement to farm the land, a requirement that currently exists under EU law. This will give farmers greater flexibility to plan for their future as these payments will be able to be used by farmers to invest in their business, diversify their activities or help new people enter the sector.
For farmers new to environmental work or hoping to do more than they currently do under the future Environment Land Management (ELM) scheme, the transition period will also allow them time to understand how new schemes can work best for their farm. Farmers and land managers can seek advice and information from Natural England's team of advisors on the possible options available both now with a new Countryside Stewardship application window opening this year, and in the future when the future ELM scheme is fully rolled out.
The government has already announced that the funding available for Direct Payments for 2020 will be the same as for 2019, and the Direct Payments to Farmers (Legislative Continuity) Bill has been introduced to Parliament to enable us to make Direct Payments to farmers for the 2020 scheme year– giving much-welcomed certainty to our farmers and food producers.
For subsequent years we are committed to matching the current budget available to farmers in every year of this Parliament, providing certainty and stability in advance of transitioning to the new system in England and phasing out direct payments in favour of rewarding the provision of "public goods".
Agriculture Bill Factsheet
We (the Government) introduced our landmark Agriculture Bill to Parliament on 16 January.
The Agriculture Bill gives us the necessary powers to design England's agricultural policy so that we deliver strong outcomes for farmers and the environment when we leave the EU.
Agriculture is devolved. This means that once we're outside of the EU each UK administration will have the flexibility to develop agricultural policy suited to their own unique circumstances.
The Bill will allow us to move away from the EU's bureaucratic Common Agricultural Policy.
In doing so, in England, we will move towards a new approach where farmers and land managers are able to be rewarded with public money for providing public goods, through:
activities to protect and improve the land, water and air that makes up our environment
measures to support thriving plants and wildlife
actions for reducing and protecting from environmental hazards
actions to adapt to and mitigate climate change
maintaining, restoring or enhancing the beauty of our heritage and increasing engagement and access to the environment
measures to improve the health and welfare of our livestock
The introduction of this Bill has given us the opportunity to make improvements to the original Agriculture Bill introduced in 2018, taking into account feedback from those working in the agricultural sector.
The new Bill maintains our flagship policy to pay those who look after our land and animals for the provision of public goods, particularly the environmental public goods listed above. It also now includes more of a focus on food production. Environmentally-friendly farming and food production can go hand in hand.
Change won't happen overnight. There will be a seven-year transition period - from 2021 to the end of 2027 - so that farmers can plan and adjust to a new domestic farming system.
During the transition period, Defra will phase out Direct Payments in England. We'll reduce the payments fairly – in the first year, the biggest reductions will be applied to the higher payment bands.
Defra also plans to 'delink' Direct Payments from the requirement to farm the land with farmers having a choice on how they use their 'delinked' payments, for instance, to:
invest in improving the productivity of their farm
diversify their business or
retire from farming
Alongside these changes, Defra will also invest in supporting farmers to improve productivity.
Individuals can still apply for Countryside Stewardship (CS) agreements in the first years of the transition, allowing them to secure longer-term funding while the system changes. CS also allows individuals to put in place environmental practices that will prepare them well for the new Environmental Land Management (ELM) scheme. No one in a CS agreement will be unfairly disadvantaged when we transition to new arrangements under ELM.
You can read the Agriculture Bill in full and follow its progress through Parliament. For more general information on future changes to English agricultural policy, please read our Farming is Changing leaflet.
What's new in this Bill
Food security – we're including a new requirement for the UK government to regularly report on food security to Parliament, demonstrating the importance we place on this subject (see section below for more information)
Financial assistance monitoring – the Secretary of State will monitor, evaluate and regularly report on our financial assistance schemes. This means Parliament and our stakeholders will be able to scrutinise how well the schemes work
Soil quality – we know that soil is an essential natural asset and that its careful management can help to provide a whole range of public goods. We've made sure that soil is specifically named in the Bill, so we can provide financial assistance to farmers for protecting or improving its quality
For example, we can provide assistance for soil monitoring programmes and soil health research to support farmers with their decision-making and soil management
An animal traceability service – we have put powers into place that allow a service provider to improve the collection and management of information relating to the identification, movement and health of animals
Fertiliser regulation – the power to effectively regulate this industry as we leave the EU, including updating the definition of a fertiliser to take account of the latest technological advances.
Organics regulation – powers to tailor organics regulation so that it works for UK producers and so we can continue to trade organic produce across the world
More information on the food security provision
The UK has a high level of food security that allows consumers to access a range of domestic and imported produce.
Currently, over half of the food we eat is produced in the UK. The rest is imported, with 28% coming from the EU and 19% from other countries.
This report will allow us to build on our understanding of the UK's food security landscape and help inform future policy.
The report is likely to cover a range of current issues including:
global food availability
supply sources
the resilience of the supply chain
household expenditure on food
food safety
consumer confidence in food